I'm very excited to share that we won "Best Community Hub" with Superdrug at the 2020 Glossy Awards! Many thanks to our partners at Superdrug!
6 months in: Superdrug brand community key metrics 💄

6,000 actively engaged customers
100s of products tested and reviewed
1,000s of shopper questions answered every month by the community
Product Pages are updated to answer top shopper questions
Time spent on website is up 31% for shoppers interacting with the community
Conversion is up 60% for shoppers interacting with the community
Meet the Superdrug Beauty Community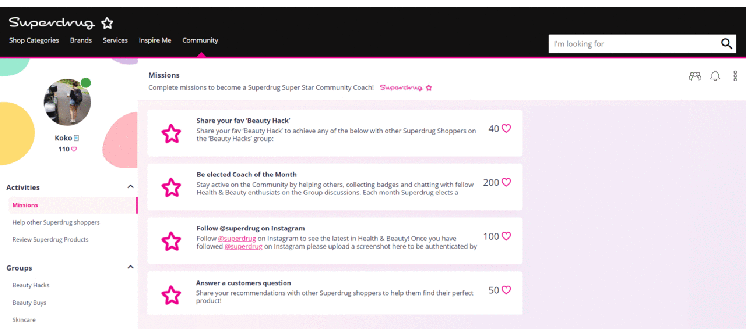 An overview of the Superdrug Beauty Community
Launched late 2019 and powered by TokyWoky's community platform, the Superdrug Beauty Community is the one-stop hub for where passionate customers can share reviews and UGC, test products, answer shopper questions and talk to other beauty fans.
As the community grows, new activities are introduced like community events and beauty contests.
Check out a live view of the community here.
Superdrug aims to be the #1 beauty destination
Superdrug wants to become the #1 beauty destination in the UK for beauty and skincare shoppers. Creating a unique online experience and a community of loyal customers is key.
Hannah Neuman, Head of Customer Communications at Superdrug says:

"The ROI on key eComm targets and the consumer insights being cascaded back into the business from the beauty community have been the keys to success of this project, but this is first and foremost a customer facing innovation."
About TokyWoky
Our community platform helps brands turn loyal customers into brand advocates. We work with leading global brands like Superdrug, H&M, Ici Paris XL, L'Oréal and many more.
More about the Glossy Awards
The Glossy Beauty Awards recognize the beauty industry's most innovative companies. Other winners included Sephora, Dove and Benefit Cosmetics. More info here.
Huge thanks to Glossy for this recognition 🙌