Last night, Glossy awarded their annual Beauty and Fashion Awards to the industry's best and most innovative campaigns. Winners were selected by execs from Maybelline, E.l.f. Cosmetics, Wander Beauty and more.
We're excited to share that TokyWoky and our partner, UK Beauty retailer Superdrug, won in the category "Best Community Hub" for Superdrug's digital Beauty community.
Engaging Superdrug's most passionate customers in an all-in-one Community Hub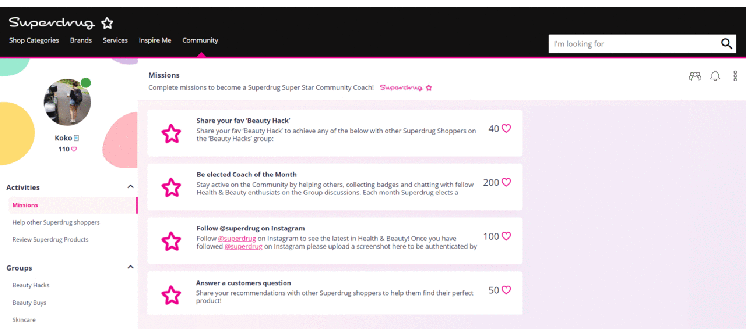 An overview of the Superdrug Beauty Community
The UK's top beauty and skincare retailer launched its award-winning Beauty Community on their online store in late 2019.
Powered by TokyWoky's community platform technology, Superdrug's Beauty Community is a centralized hub where the retailer's most passionate customers can find all engagement opportunities without having to jump platforms. From this hub, they can:
Discover and test new products
Leave reviews
Help other customers
Meet like-minded beauty fans
Learn beauty tricks
And more
Superdrug leverages its community to generate customer reviews at scale, have customers help each other and improve the overall online customer experience based on community feedback.

Hannah Neuman, Customer and Communications Lead at Superdrug says: "The ROI on key eComm targets and the consumer insights being cascaded back into the business from the beauty community have been the keys to success of this project, but this is first and foremost a customer facing innovation."
Transforming Superdrug into the #1 beauty destination
Superdrug's goal is to become the #1 beauty destination in the UK for online beauty and skincare shoppers. Creating a truly differentiating experience and building an engaged community of like-minded beauty fans plays a central role in this.
Six months after launch, the beauty retailer counts over 6,000 actively engaged customers, with 100s of products tested and reviewed, and 1,000s of shopper questions answered every month by the community.
As the Superdrug Beauty Community grows, new features and community activities are gradually introduced.
Take a look at the live Superdrug Beauty Community here.
About TokyWoky
Our custom community platforms empower brands like H&M, Superdrug and Michaels to connect with their top customers and engage them to create value beyond purchase. In an increasingly digital world, TokyWoky helps brands differentiate and create a unique, helpful and inspiring customer experience that shoppers have come to expect.
Reach out to
james@tokywoky.com
if you want an overview of what we do and our approach to community-building.