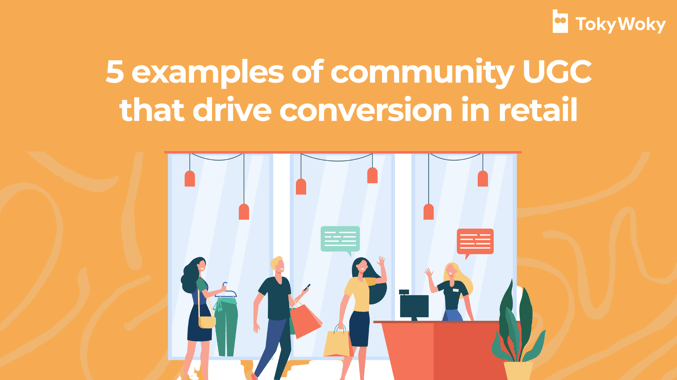 User Generated Content or UGC is increasingly becoming the most popular advocacy vehicle used by brands and retailers.
However, the approach that most businesses are adopting is to hunt for existing UGC, where they rely on the use of social listening tools to scan comments or hashtags on social media to gather UGC that has been posted by customers.
This strategy is limiting as the brand is highly dependent on the volume and quality of UGC created and can't control which products benefit from UGC. Not to mention the inconvenience of having to chase the customer to obtain their consent to reuse the content.
A more scalable and controlled alternative is possible. The idea is to "farm" UGC to generate content consistently and in a targeted manner. Brands do this by gathering their best customers on a community platform such as TokyWoky and engaging them to create the right content, for the right product, at the right time.
To help you understand how your own brand community could generate UGC, we've gathered some of the most effective examples of UGC that our clients have obtained from their community members. Let's dive in, and make sure you don't miss the bonus at the end!
What is User Generated Content?
UGC is created and shared by customers rather than by the brands themselves and can be in the form of text, videos, images, reviews or pictures.
UGC is key to building trust and reassuring customers on their purchase based on referred feedback from fellow consumers.
It is virtually free to generate and highly powerful when it comes to conversion. Indeed, UGC has a major impact on prospective customers, with consumers buying behavior influenced by:
Recommendations of their close circle for 93% of consumers
Recommendations by review sites for 91% of consumers
Who creates UGC?
For most brands, 5% of their customers represent 20-40% of their total revenue. That small group of more loyal customers is the most valuable when it comes to UGC as they're much more likely to contribute and share their experience.
Any advocacy marketing strategy based on UGC must start by identifying these loyal customers, gathering them and engaging them to maximize the impact they have on future and existing customers within the brand community.
Get more valuable UGC with an online brand community
Generating UGC is crucial to a brand's success, especially for online stores and ecommerce platforms which need to boost conversion on product pages. With new products released on a regular basis, getting enough UGC for every product can prove tricky. It is, however, the key to scaling revenue on product pages and attracting new customers.
A brand community platform such as TokyWoky is the ideal solution to generate UGC at scale as it drives at least 6-8X more UGC from its members! This is a strong sign of brand attachment that can be reused in multiple marketing channels, including social media.
The brand's product catalog is tagged on the community UGC posts, enabling members to showcase live products and direct other members to the product pages to increase purchases.
1. Product testing and reviews
Giving away free products and prototypes to a select group of customers and asking them to post a review is one of the most effective ways to generate quality UGC. It's typically used to boost early product adoption and increase trust on product pages.
FeelUnique, a leading beauty retailer in the UK, has a dedicated space in their community to sign up to test products: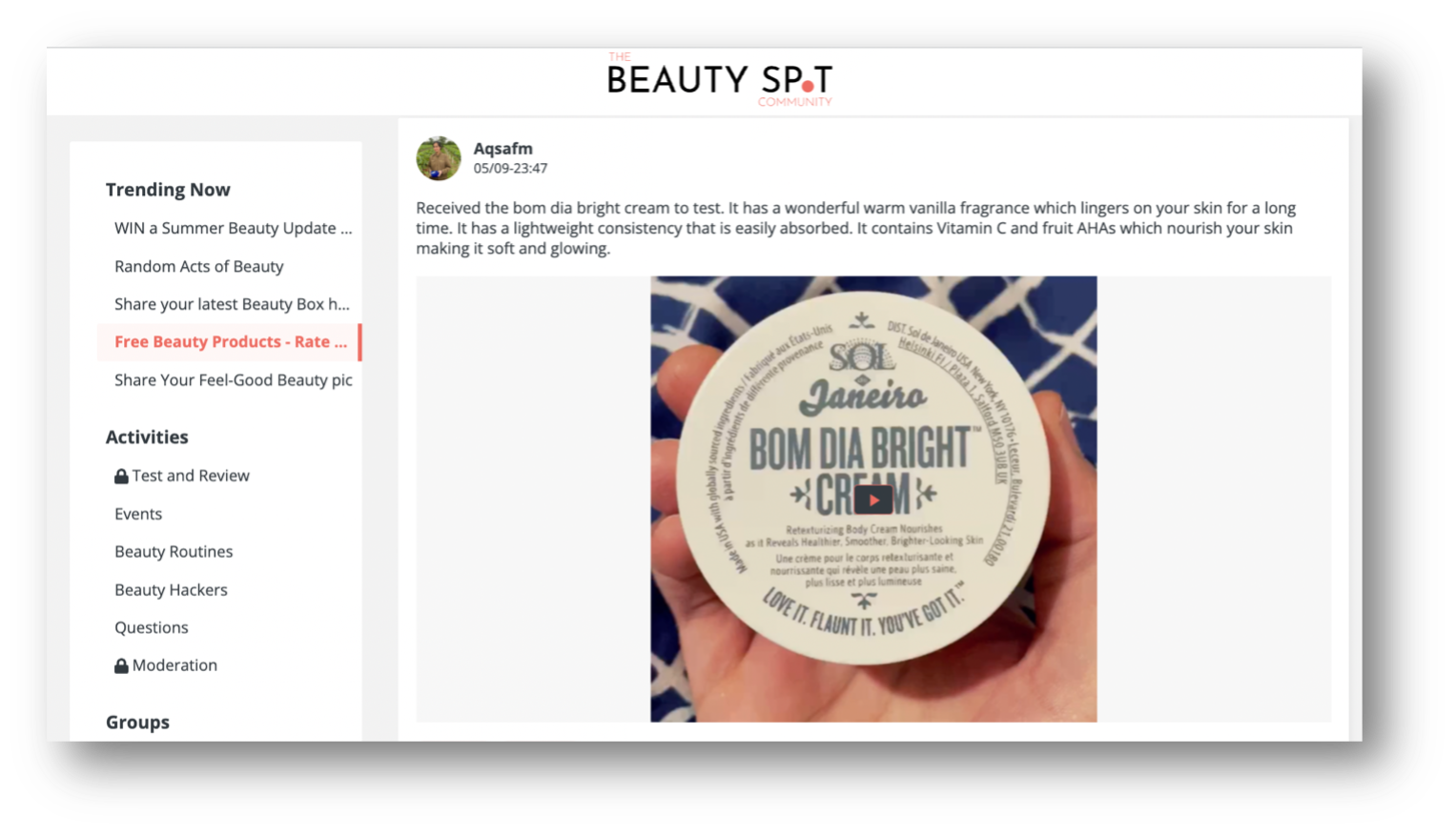 2. Beauty routines
A routine gives the customer the ability to indicate how they combine their cosmetics products, whether skincare, makeup or haircare. Routines provide advice to other community members on how to use products, with customers being able to describe the steps they take.
They're also a fantastic way to increase Average Order Value as it encourages product bundling.
La Roche Posay customers love building and sharing their skincare routine on the brand community: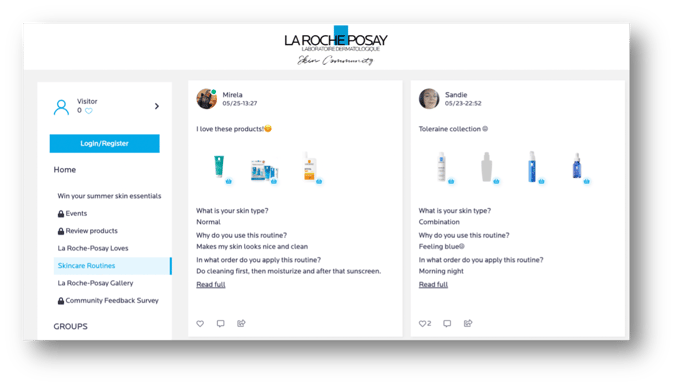 3. Outfits Of The Day
Similar to beauty routines, Outfits Of The Day (OOTD) involve customers pairing multiple fashion & apparel products to build an outfit they've worn or would like to wear. This is perfect to give ideas to other members on how to style an item they're coveting and of course, also boosts AOV through product bundling. We recommend using pack shots for more consistency across outfits.
Monki, part of the H&M group, is a great example that covers the entire outfit including accessories: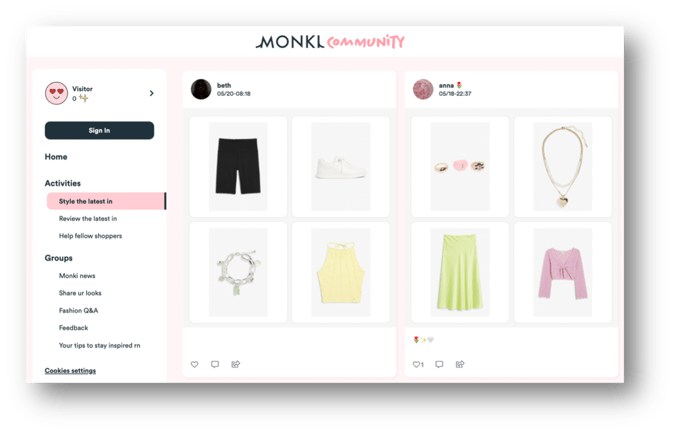 4. Competitions
Organizing contests between members, which result in customers (or brands) voting for their favorite piece of content, are a very effective way to generate large amounts of UGC in a short time. Rewards can be focused on product giveaways or additional experiences for better customer engagement.
Competitions have the added benefit of increasing social media reach, especially if the brand creates a dedicated hashtag, that members will use to enter the contest.
Lancôme has seen great results with a recent contest about one of their face serums: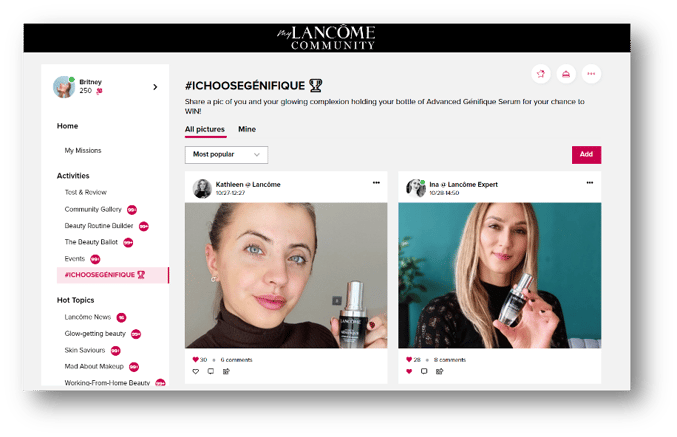 5. Cooking recipes
One of the most popular online searches, recipes require using multiple products, making it a great opportunity for shoppable UGC. In the community, members will be able to share their secrets to the perfect cake or lasagna as well as indicate which products they bought to make it, so that other members can also purchase them and get the same results!
Here's a view of how a global leader in groceries, leverages recipes to drive customers to buy more products: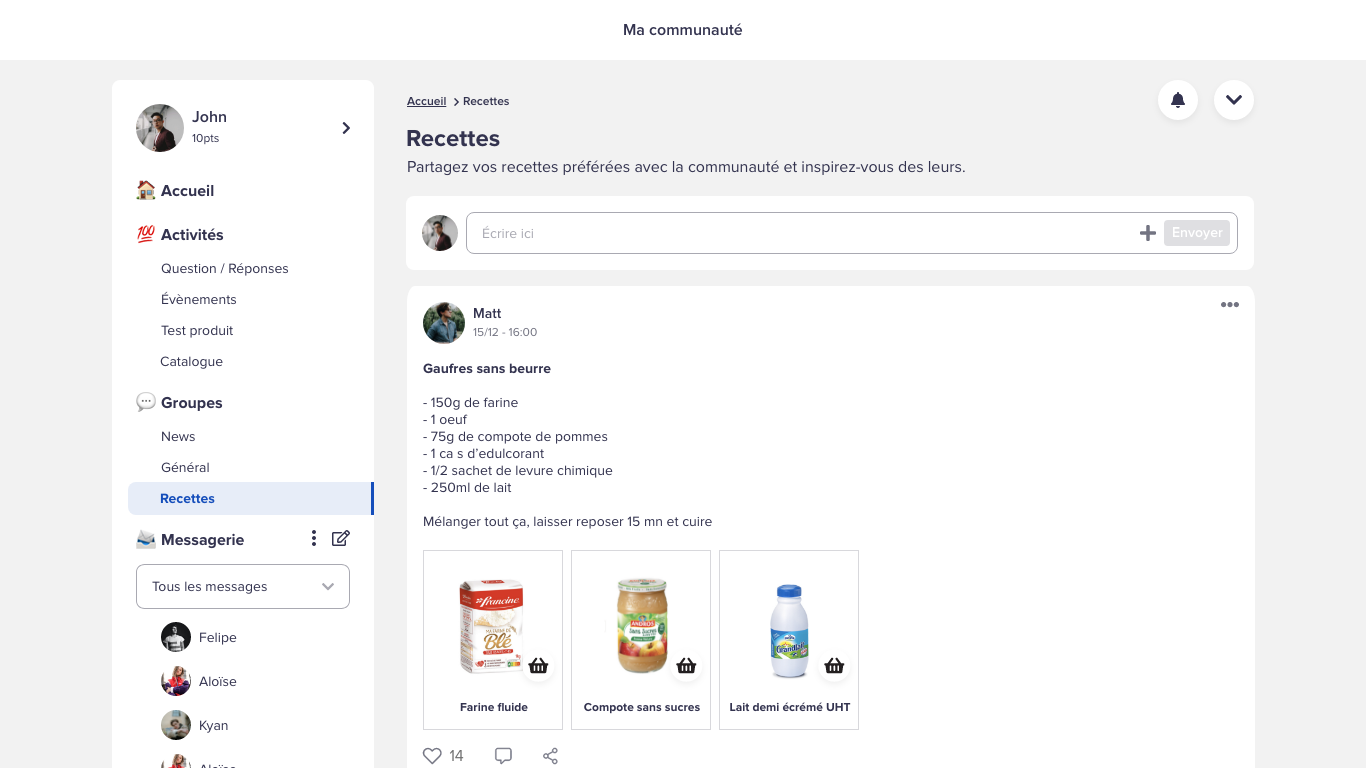 BONUS: Drive more value out of UGC by displaying it on product pages
TokyWoky's brand communities are white label platforms, meaning they're seamlessly integrated with the brand's ecommerce website.
As such, visitors can see community content on product pages. TokyWoky allows its clients to tailor the content they'd like to display to each product page, whether beauty routines, product reviews or even competitions results.
We strongly recommend that you take advantage of this feature as it drives advocacy, fosters trust, and ultimately increases conversion.
Here is an example with Kicks, the top beauty retailer in the Nordics, who boasts a thriving community of over 48,000 members: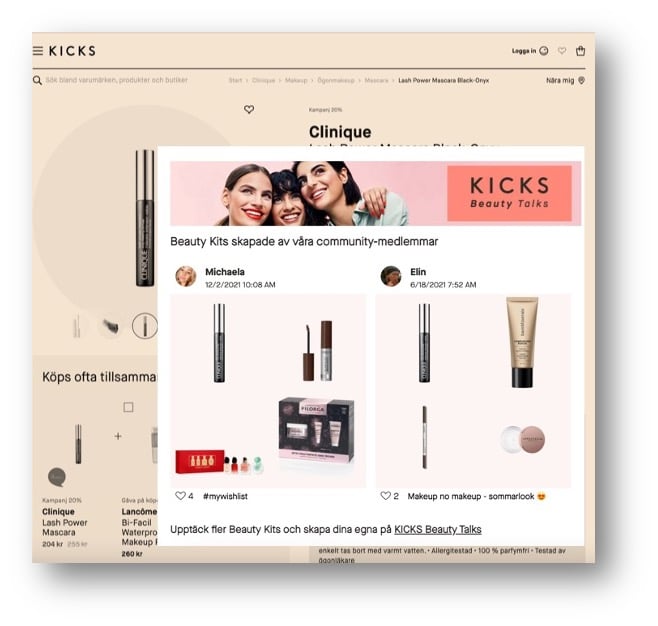 If you want to learn more about the TokyWoky platform and the community building process, get in touch with our team. We'd love to help you choose the best strategy for your brand community!