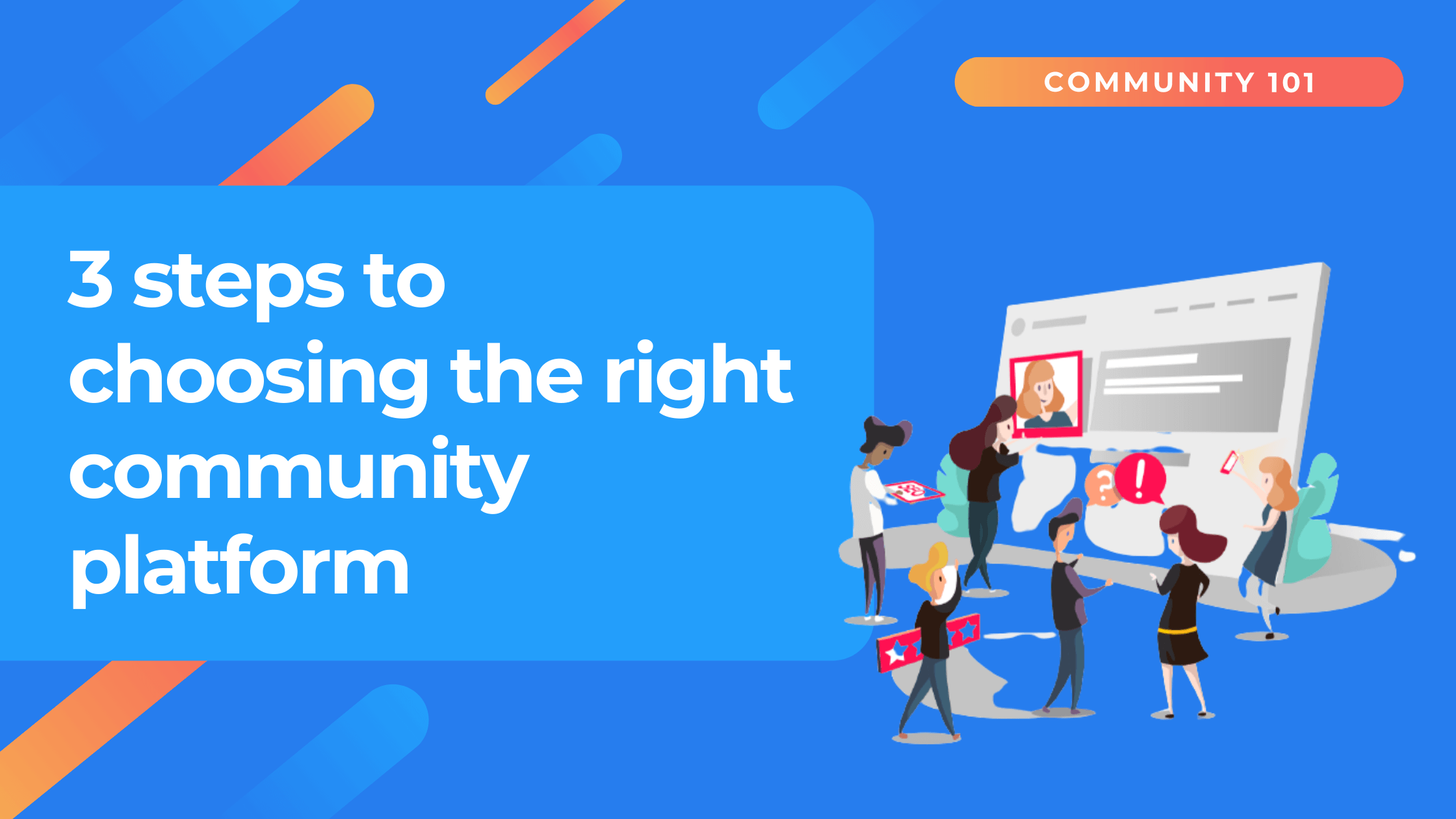 A crucial step to any community building process is picking the right platform to host your community.
You'll have many options to choose from, and it can be tricky to know which one to go with: social media, private freemium communities (Slack, Discord…), white-label platforms (TokyWoky, Khoros…) or even something custom made (in house or agency)…
I wrote this article precisely to help you answer these key questions and find the right fit for your community project.
Let's dig in 👇
Once you've set the initial scope and goals of your community, it's time to figure out:

1. Building a community on social media or an owned community platform?
We've talked about the advantages of building your community on social media before. Especially if you're a smaller brand, with fewer resources and a community potential to test, this can be a good option for you. But there are certain clear limits to this option:
The limits of building your community on social media
Social media play a crucial role in customer communications, but it's naturally limited to mostly top-down communications. You are broadcasting - not building relationships or fostering customer to customer interactions (community's secret sauce).
You also can't add the loyalty and advocacy features you need to maximize and measure community impact: CRM integrations, UGC and product testing tools…
Finally, the biggest limit to building community on social media is you're at the mercy of Facebook & co with declining organic reach and increased ad spend. It's risky to trust them with your top customers and brand fans.
How to decide
Your decision will mainly depend on your level of maturity, resources, and goals:
Do you have community potential? Social media can be a great way to test your community potential. If you're a more mature brand with existing customer engagement, you likely already have plenty of signs and little need for additional testing.

Do you have the necessary resources? If you don't have a dedicated resource and a key stakeholder on board, you won't get the sign off and resources needed to run a successful brand community. Best to wait until you have those.

Do you need to measure business impact? A community platform is designed not only to grow your community, but also to maximize impact on key business goals. Social media simply has too little tools to accurately measure this.
Read more: the benefits of an owned community platform (vs social media).
2. Building your own hub or buying a community platform?
TokyWoky is a product team at heart so when we have the option to build something, it's usually what we do.
When starting their community building process, many brands consider building something completely custom or working with a web agency, so they get a community hub that's tailor-made for their brand.
The other option is working with a community platform provider (like us 👋) and get an annual subscription.
The resources you need for an in-house community
You can build your community in-house if:
You have the design and dev resources to conceptualize, launch and optimize your community. You need these resources not just for the launch but for the months & at minimum year following it.
You have in-house community building expertise: a team that knows how to set up the right gamification, engagement, and measurement strategies so your community achieves the goals you set out.
If you have both internally it can be a good way to go, as you know your company, team and customers better than anyone.
To be frank, it's rare when a brand can check both boxes, and do so long-term. If this isn't the case for you, it's safer to work with community-building specialists who have both the platform and the strategic resources.
3. Buying the right community platform
If your community project is too mature for social media and you can't be sure to secure the necessary resources for an in-house build, there are 3 key elements you need to keep in mind when buying a community platform:
Prioritize the features you'll need
Make a list of the features you'll need to reach the community goals you set out at the start of your community-building process:
Customer engagement and loyalty? Look for gamification, missions and rewards, events…
Product discovery and conversion? The goal is building trust and your go-to features will include product testing, UGC creation, on-site display options…
For acquisition and advocacy, does the platform support contests, promo codes, links to relevant social media platforms…
For support, insights and SEO-focused communities: wiki, discussion forums, surveys…
Depending on your community goal, this should give you a list of must-have and nice-to-have features that will help you prioritize as you talk to community building platform providers.
Identify the integrations you'll need your platform to have
A platform rarely works on its own, when it's not linked as much as possible to your ecomm site and key tools.
Some great questions here to ask yourself – and then potential platform partners - are the following:
Do I want my community to integrate with my CRM? Or existing loyalty accounts? Do I need SSO?
Do I want to display community UGC on product pages or anywhere else on my site?
What level of customization am I expecting? Do I need a platform that's fully available with APIs?
Do I have other key tech components I want my community to integrate with?
Pick the partner with the relevant expertise and community-building approach
Trust is crucial when picking a platform provider: do they understand your market, internal organization and clients? Communities are super tricky to build – find the team with a proven track record of growing communities in your industry.
And finally, do they have an iterative approach to community? If 90% of what works with your community is something you'll find out post-launch, you need to make sure you're partnering with someone who's setting realistic expectations for the first year and has a build, test & learn mindset.
Ask how they're setting growth plans and community objectives with other clients today, and how much visibility and influence you can expect to have on their roadmap.
As you start the process of building your community, you'll see you have plenty of options when it comes to choosing the right platform. I hope this article will help you make a more informed decision.
If you want to learn more about the TokyWoky platform and community building process, talk to our team.