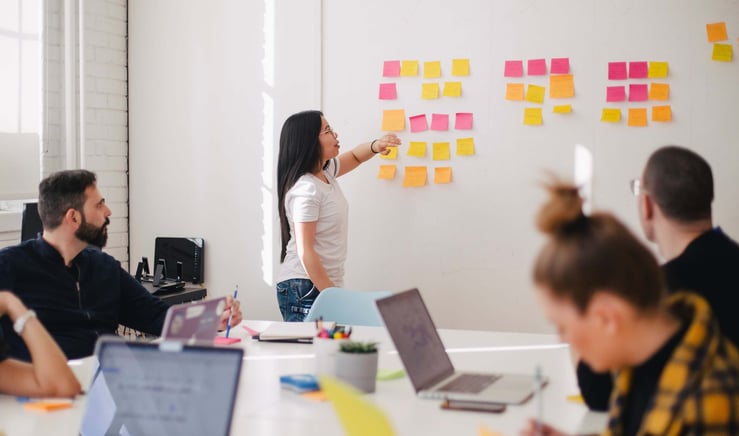 Even with Salesforce naming it the #1 retail trend for retail in the new year, brand communities are still a new concept for many retailers and tricky to get right.
The right community strategy engages a community, while reaching clearly set business goals. Failing to define the scope and goals of your community project means you risk wasting budget & resources.
How, then, should you get started with your brand community? Here's how we help clients define their community project and map out what they'd need in a community platform:
Test your online community potential
Where are you successfully engaging customers today?
Analyse the channels that work for you (social media, email, in-store events, sms marketing…) and why. These channels will have a dual role: recruiting new community members and distributing community generated content.
Where do you have enough traffic?
Your community platform needs to attract enough engaged customers to avoid becoming a "ghost town". One of our biggest learnings at TokyWoky is that building your platform on a dedicated website will not work. Build your community on your e-shop and/or check if you can rely on packaging, stores, social media to direct enough people to your community.
Test your first assumptions
Before committing to building a platform, test your community potential on a smaller scale. Do customers show up if you launch a dedicated Facebook group? Does customer service get questions that go beyond delivery & purchase? Do people attend your in-store event? Do they reply positively if you survey them about new conversation channels or community spaces?
If yes, it's time for that next step and maximize community impact.
Set clear and measurable community goals
Find the key business problems you're looking to solve
When community projects fail, it's often because they're unable to prove ROI. Bypass this by listing clear problems you want to solve and build your community around reaching that goal.
A few examples: retailers are using their communities to help tackle low conversion rates on product pages, declining store traffic, high customer service costs, incomplete customer data in their CRM, low customer lifetime value, ad campaigns that miss the mark... Find the problem your community can help you solve.
Choose behaviours you want to incentivize to solve these problems
Think product testing at scale to increase product page conversion, customer feedback on new collections or ad campaigns to help product and marketing teams, UGC that powers email blasts, social ads, product pages…
In our experience, it's best to focus on 1 or 2 problems max at first and verify if community can help you solve this. Then, add new activities & incentives as your community matures.
Get the right teams involved
Ownership of the community project moving up the company hierarchy is one of our top predictions for community & retail in 2020. To avoid major slowdowns or holdups, make sure you onboard all relevant teams & show how they will be able to use the community.
For most branded communities, we recommend onboarding Marketing, CRM, Customer Service, Ecommerce, Social, In-store, Tech & Product teams.
Be ready to iterate
When it comes to community, one size fits none
Every community is unique: what works for one brand and their customers won't necessarily work for yours. That's why we spend time testing features, engagement tactics and recruiting channels with the brands we work with. No two brand communities look and work the same.
Involve your community platform provider early on
This will make the process a lot smoother. Usually, brands ask consulting companies to draft their community strategy and then recommend a provider who can make that a reality. We recommend including providers who created communities you like as early as possible as they can give you direct input on what works and doesn't in your industry.
The importance of the iterative method
In our experience, 90%+ of what works with your community is something you'll find out post-launch.
Make sure the team you're working with (internal or community platform provider) knows you'll test and find a large part of what makes your community successful after the initial launch. They should have a Build – Test – Learn – Repeat mindset.
It usually takes between 6 months and a year of testing new features post-launch to reach a community's full potential.
These are the first steps we recommend to anyone with a brand community project, hope it helps!
If you want help applying these to your brand, feel free to request a session with our team.