In the last months, we've had the privilege of working with Carrefour on one of our most ambitious community project yet. Scoping, building and launching a global community for one of Europe's leading retailers was, in fact, one of our most exciting challenges.
The goal of this short article is to highlight the outstanding work that the Carrefour team has done and, as usual, to spot best practices along the way!

Phase 1: a customer-led "soft launch"
The Carrefour community is part of a larger initiative to put the customer back at the center of their decision-making process. So, it's only logical that Carrefour decided to start the project with a co-creation-led soft launch.
Carrefour's strategy included a lot of the key best practices we've witnessed when it comes to the early stages of community-building:
They created a private version of the community which they opened only to some of their existing communities. (ie: Facebook groups, What's app groups, insights panels and staff members)


They gathered insights from these first members through:

Direct feedback and engagement metrics from the platform V1 itself.
Multiple surveys
Digital and physical round tables



They analysed all of these insights and worked with us on a V2 of the platform that fully aligned with their customers needs.
In our view, Carrefour actually did two things very well. Not only, did they actively work on gathering customer feedback but, when some of that feedback contradicted initial hypotheses, they adapted instead of sticking with their original ideas. It sounds obvious but in our experience, it's rarer than one might think.
Phase 2: a highly visible and coordinated "hard launch"
Phase 1 gave Carrefour's community its key objectives:
Empower customers to influence Carrefour's decisions and vision.
Provide a platform where members, brands, and Carrefour can collaborate and exchange advice to support customers' purchasing power.
With these customer-backed priorities in mind, Carrefour switched to a "hard launch" strategy to drive the expansion of the community on a larger scale. In fact, they coordinated the biggest community launch we've seen to date with:
A dedicated TV Ad aired during prime time:
A dedicated survey-based contest with an easy way to participate and generous prizes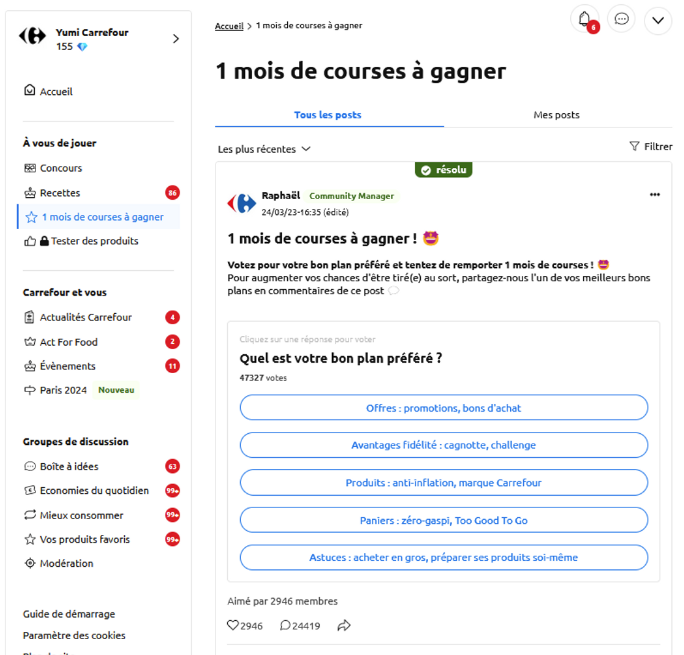 Additional themed-contests

High-visibility for these community activities on their website, app, CRM and SMS.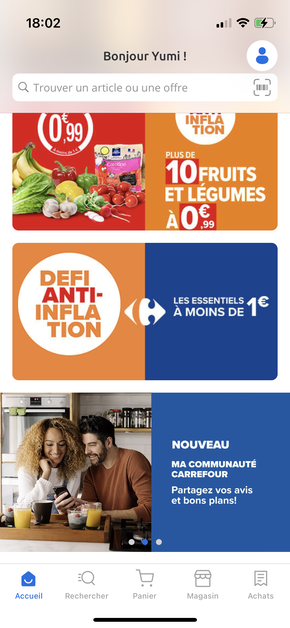 The outcome of this hard launch was impressive:
80K+ members recruited
25 000+ UGCs generated
An increase in visit frequency and sales for community members vs. non-community loyal customers
Post-launch analysis and next steps
To sum up, key take-aways from Carrefour's "best in class" launch are:
A soft-launch focused on gathering customer insights to base the community on.
A highly visible hard launch based on community activities and leveraging all brand media.
One last key point is that Carrefour organized monthly follow-up calls with all key stakeholders and relevant C-levels. This "board-level" steering committee was instrumental in aligning everyone and pushing the project forward.
In terms of next steps, after a successful launch, Carrefour's focus is now shifting towards growing and leveraging the community within an "always-on" approach. New events, challenges, co-creations, contests are coming up. We're also launching an exciting sustained product testing activity to engage the community and scale product insights and UGC production for Carrefour and the brands it distributes.