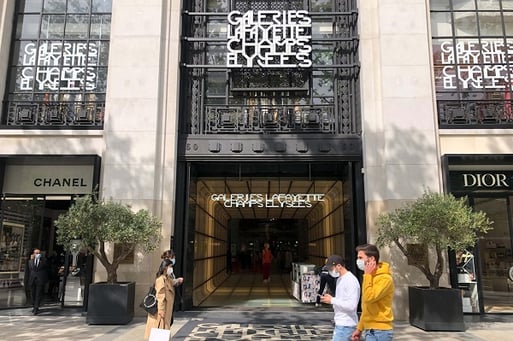 It's been 15 days since France reopened. Retailers are still adapting to yet another new "normal" every day, but some common patterns and best practices are emerging.
I wanted to write these down for everyone I spoke with these past few weeks who asked me how retail has been adapting in France.
1. As expected, a slow and gradual reopening
One thing most agree on: mass shopping won't be making a full comeback anytime soon.
Brands are gradually reopening stores, testing the waters on whether customers are ready to come back. Many are keeping mall stores closed, even though local governments say they can reopen in less affected areas.
There is a limit of how many people are allowed in store and strict safety measures to follow.
2. Testers, makeup counters and trying on clothes are out, touch screens raise shopper anxiety
This quickly became obvious as the reality of the lockdown set in.
We'll probably see a big increase in instore Augmented Reality. But even though the technology is ready to be rolled out at scale, it can't replace testing in categories like skincare.
Touch screens (massively installed in many stores) are being cleaned regularly, but remain an issue for many shoppers.
3. The new frictionless commerce is avoiding friction with others
Brands are rushing to make the entire shopper experience as "touch-free" as possible. We're seeing a trend in contactless payment, curb side pickups, self-shopping, vocal tech…
The bar is raised for in-store and delivery experiences: people are calling out brands who seem to be dropping the ball on safety precautions.
Store layouts need adapting too, it looks like the IKEA model might be making a comeback. For now, in-store staff try to limit the number of people allowed in one aisle, but it's hard to enforce.
4. Ecommerce will be the big enabler for a return to in-store shopping
For more hesitating shoppers, brands are making big strides by making the online-to-store flow much smoother.
Jacadi, a premium clothing brand for kids, is extending store hours so top customers can book private appointments and shop without stress. Shoppers can also book 15min slots online where they can safely pick up or return their order.
This means retailers need to eliminate any friction between ecomm & stores in terms of revenue. In-store staff's motivation will depend on it as ecommerce remains the default for the time being.
5. A scramble to stay connected with loyal customers
When the lockdown started, retailers suddenly lost direct access to their best customers. Most are foreseeing that customer engagement in physical stores will remain low throughout the year.
They're seeing online engagement as the solution. On a personal level for TokyWoky, we're seeing this at the number of brands who are making community building a priority now.
Some are testing other personal touches: Jacadi asked their store associates to call and check in with their top 50 clients.
6. The focus on educational and entertaining content will remain
While stores were closed, some brands stayed hyper relevant to shoppers by putting out helpful or entertaining content. (Our team shared plenty of great examples here)
The best retained loyal customers and acquired new audiences. We're seeing this new focus continue post lockdown as most brands saw a big increase in customer engagement with these new brand initiatives.
The world won't fully return to normal any time soon: brand relevancy continues to depend on how they help people adapt to this new situation.
7. It looks like you can't communicate enough about safety measures
"As long as you haven't entered a store, you can't imagine what it's like" – heard this from Chloé Ortiz, Jennyfer's Director of Communications, a leading teen fashion brand in France.
While we were doing our interview, she had a film crew in-store to show how they're ready to reopen.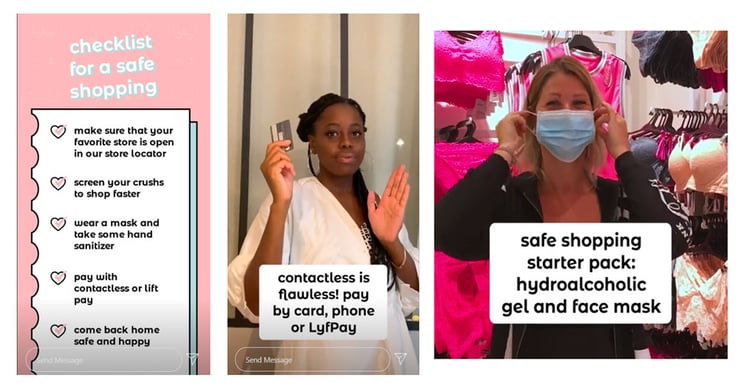 8. Customers are a retailer's best source of intel
Brands with a process for direct and continuous customer feedback (via email, social media, community platform, text...) fared better during the crisis. They were the quickest to pivot and adapt to the crisis in real time.
There's a clear difference in brands who survey and include customers in the reopening process - and the rest. Companies are deciding to reopen, clarify safety precautions, switch up ad campaigns, restart deliveries on a day-by-day basis.
They have been 1. quicker to adapt & rollout changes 2. avoiding mistakes & increasing brand trust.
9. A big change in roadmaps: "nice to haves" turned into essentials overnight
As retailers plan for every possible scenario (future lockdowns, economic uncertainty…), they're testing new (mostly touch-free and ecomm) tech, while projects are being overhauled.
Jacadi "shipped as many new projects in 2 weeks, as they normally would in 6 months". Retailers will need to maintain that level of speed in decision-making and adaptability for the months to come.
We're still at the very beginning, and I'm likely missing many other signals. But I hope this gives you a clearer picture of how retailers are resurfacing post lockdown.
I'll be posting a more detailed look at how the current crisis is moving community projects up the priority ladder too, stay tuned.
We also published the list of top questions asked by online shoppers right now as the end of the lockdown nears.