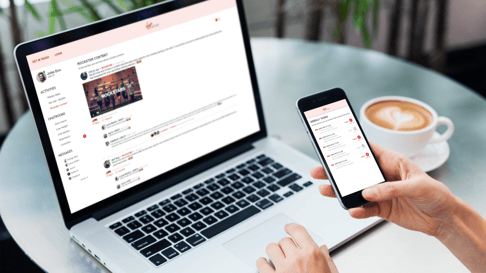 Retailers are "tired of fighting with algorithms" to reach their community of passionate customers.
This is what Lush posted when they left social media a few months ago. They joined Glossier, H&M, Sephora and more who are rethinking how dependent they've become on social media and are now building their own community platforms.
But why community platforms? What goals do these help them achieve?
And should you be doing the same?
We've spotted 3 main reasons why brands are building community platforms:
Secure access to top customers
(because reach & engagement is down on other channels)
Increase customer loyalty through custom experiences
(because promos aren't enough to meet customer expectations)
Turn loyal customers into brand advocates
(because current loyalty programs aren't maximizing the impact top customers can have)
Goal 1: Secure access to top customers
Low reach on social media and poor email engagement means marketers are finding it harder to keep in touch with customers.
Declining reach on social media
Retailers spent years and countless resources building their audience on social media. Over the past 2 years however, organic reach has been dropping significantly:
20% decline in organic reach in 2017, then another 34% decline in 2018, when Facebook decided to favor groups over brand pages

20% drop in engagement on Instagram after the platform removed likes (based on early metrics)
To make up for this loss, brands are significantly upping their ad spend.
Email's problem with long-term engagement
Email, the other big DTC channel, also shows real engagement problems:
Over 75% of

customers

opted

out of communication from a brand

in the past 6 months

For companies with European customers, some brands lost as much as 50% of their contact base with GDPR
Looking for new (and owned) channels
Email and social media will remain essential communication channels for any brand. But they're no longer the most secure and future-proof channels to stay connected with top customers.
Brands need to develop new ways to access their best customers. Winners will be those that own the spaces their communities occupy.
Goal 2: Increase loyalty through unique experiences
Modern buyers, especially younger generations, no longer want ads, email blasts, or coupons from their favourite brands.
Brands are rethinking how they're treating best customers and if they're creating an experience worth coming back for.
Custom experiences that engage customers (and source insights for retailers)
With customers looking for unique experiences, brands need the freedom and tools to create tailor-made experiences.
Social media doesn't provide custom and branded features. Today, brands are testing these in physical stores through community-events (classes, workshops...), or doing this at scale on the platforms they own.
Best-in-class examples
Monki

, H&M's millennial brand, launched a community platform where customers can rate new collections and style outfits. The best styles (as voted by the community) get featured on the website & social media. Fans feel recognized and Monki's team can easily spot what is trending.

Glossier sources products, packaging and even ad copy on their

Into The Gloss

blog (this is how they sourced the best-selling Milky Jelly Cleanser 9 months before its release). Fans feel hyper connected to the brand and the Glossier team knows what products their core customer actually want.
LEGO has a platform where fans can submit ideas for future sets. When they get 10,000 votes, the set gets made. This is a great way to make fans feel like they're part of the brand and the LEGO team discovers new themes that interests their core fans.
Once you're delighting top customers in a place you own, you can focus on ways to leverage their brand love and maximize their impact on sales.
Goal 3: Turn loyal customers into brand advocates
A review or the right UGC can boost product page conversion by 15%. Brands have a real challenge in maximizing the impact of their loyal customers, well beyond repeat purchases.
This means loyalty programs need to revamped: the goal is not only to build loyalty, but to transform loyal customers into brand advocates.
Build a system rewarding every positive action
Gymshark, LuluLemon, Sephora and others are turning their loyalty programs into systems that incentivize and reward customer advocacy at scale.
Since traditional loyalty programs aren't built with advocacy in mind, and social media doesn't allow to do this effectively (not linked to the CRM, no custom advocacy features), they are relying on advocacy or community platforms.
Best-in-class examples
What this means for brands
The strongest brands will be those who create a system that incentivizes loyal customers to go beyond repeat buying and become advocates of the brand.
One trend for 2020 and beyond we're following closely is brands upgrading their existing loyalty programs to next generation advocacy & community programs!
You're all read up on the 3 reasons retailers are launching community platforms.
If these echo your community goals and you want to hear from our team of community experts, book your 1on1 session or reach out to hanne@tokywoky.com