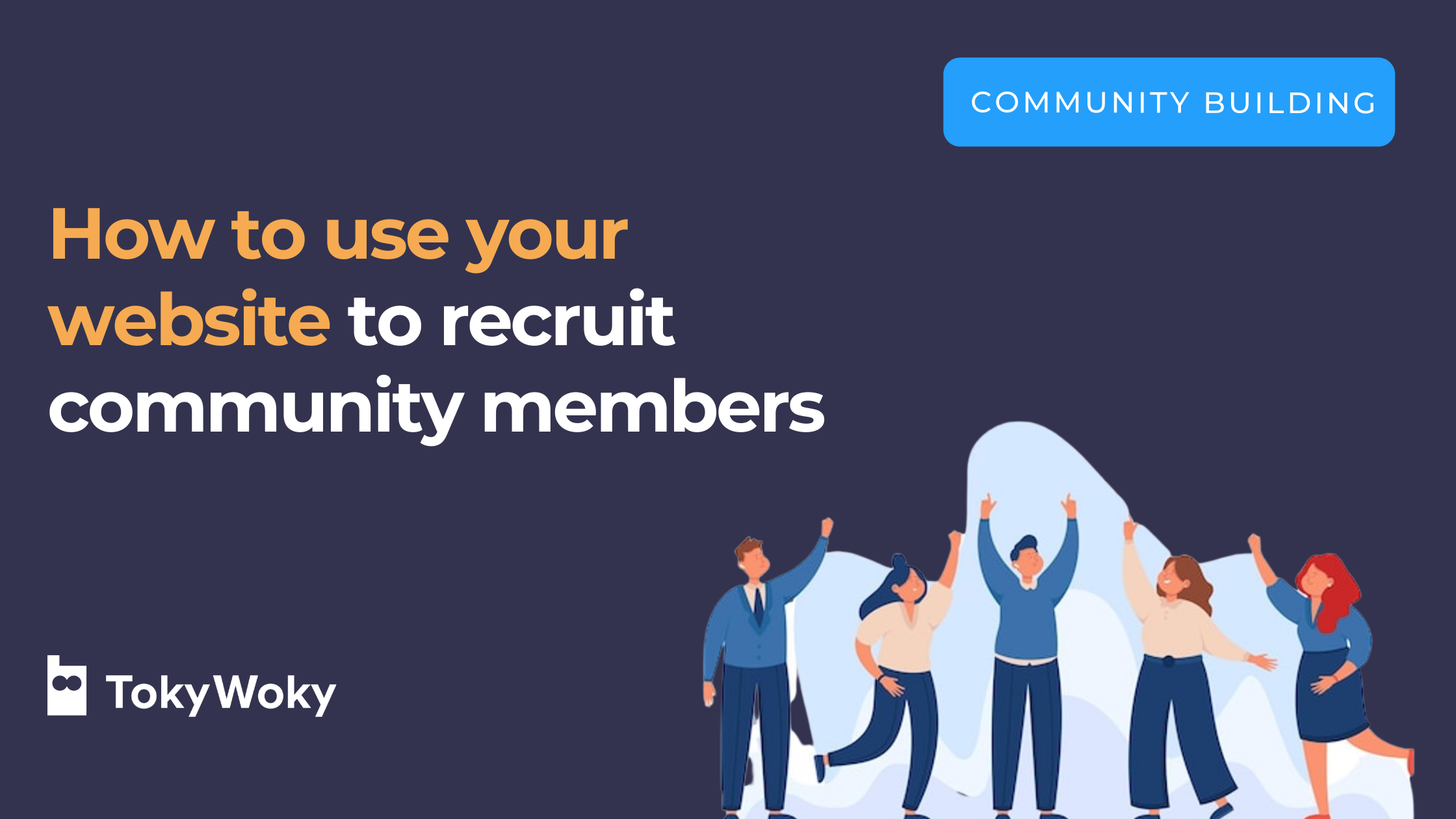 When launching a brand community, one of our clients' biggest concerns is how to recruit members to get the ball rolling on contributions and later, how to keep increasing the size of their community.
Social media, newsletters and targeted campaigns are of course great ways to inform your customers of the existence of your online brand community and drive them to sign up. But let's not forget that your website is actually one of the greatest assets to recruit community members. Signposting your community across multiple touchpoints on your ecommerce website is a key factor to transform your best customers into members.
So, which community recruitment tactics should you leverage on your website? This article covers the best practices we've gathered over our 7 years of expertise in building brand communities.
Make the most of your website to recruit new members
Your ecommerce website is the perfect place to maximize the recruitment of community members. Why? Because it's where you get the most traffic! With visitors already showing an interest in your brand by simply coming to your website, their session is the ideal time to capture their attention and start engaging them on an experience-based journey.
Recruiting members using your ecommerce website also yields the added benefit of being permanent. Once the different call-to-actions and links are created, they remain on your site for as long as you wish and you don't necessarily have to constantly create new content, like you would with a social media campaign or newsletter. For example, if you add a carrousel banner to your home page, you'll be driving non-stop traffic. It's the gift that keeps on giving!
The goals are to bring awareness around your community and make it easy to join! In other words, your community must be visible and stay in your customers' mind throughout their journey on your website.
Four best practices of a successful community recruitment strategy
To create a strong community and recruit new members on a regular basis, you should aim to design tailored elements on your most strategic pages (homepage, product pages, contact page…) and give direct access to your community to any visitors from your header and footer menus.
1. Promote your community
Banners, popups on your homepage or product pages, call-to-actions and dedicated tabs are strongly recommended to gain visibility and to attract members to your community.
Two best practices
Highlight your community tab. Make it visible and personal like Lancôme: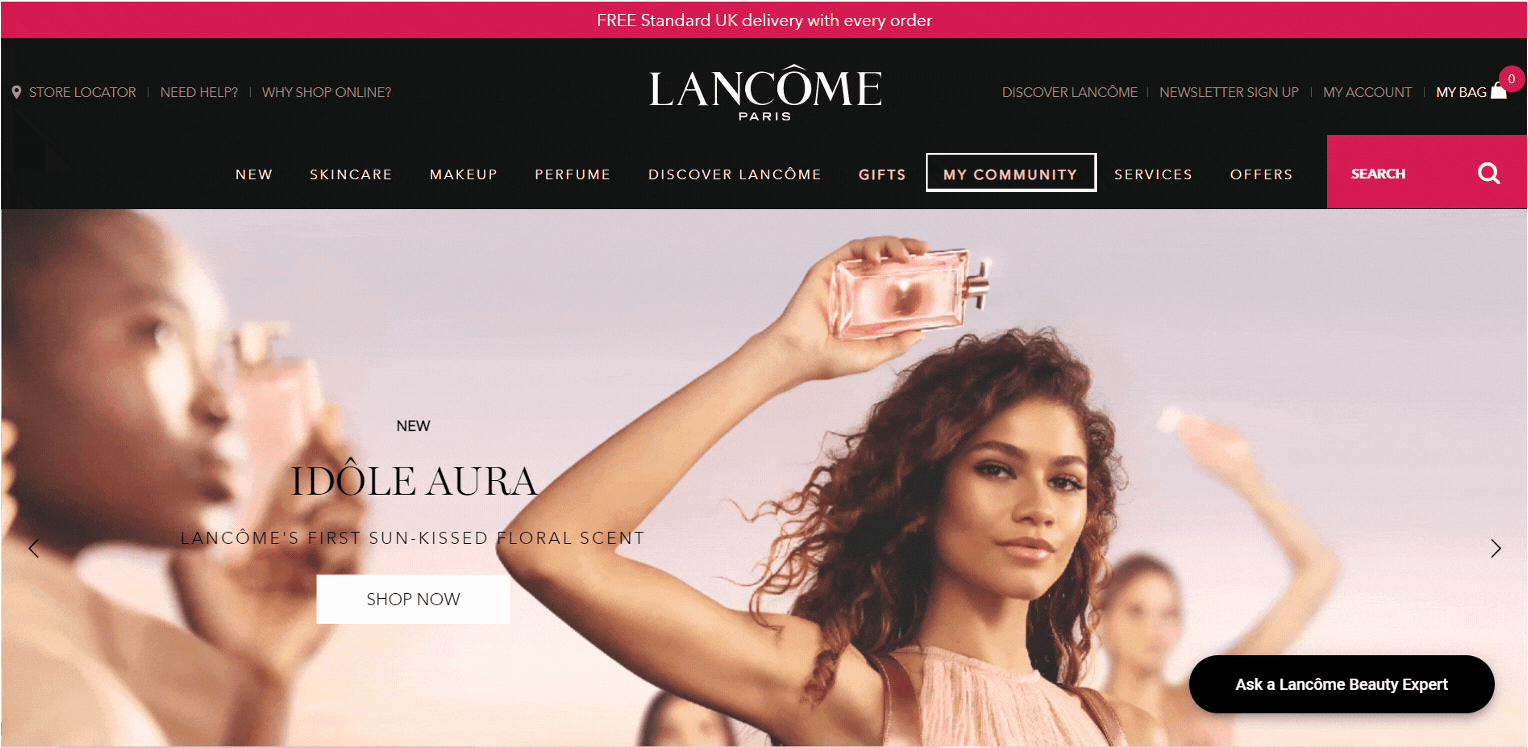 Emphasize the core benefits of your community in a pull-down banner by using straightforward and engaging words. Keep it simple like La Roche-Posay!

2. Showcase activities
Leverage the full potential of your pull-down menu banner to engage your future community members by promoting core activities such as competitions, events or product tests. This more enticing tactic will tell them what to expect. Besides, including additional menu entry points for every activity your community offers multiplies the CTAs for customers to join.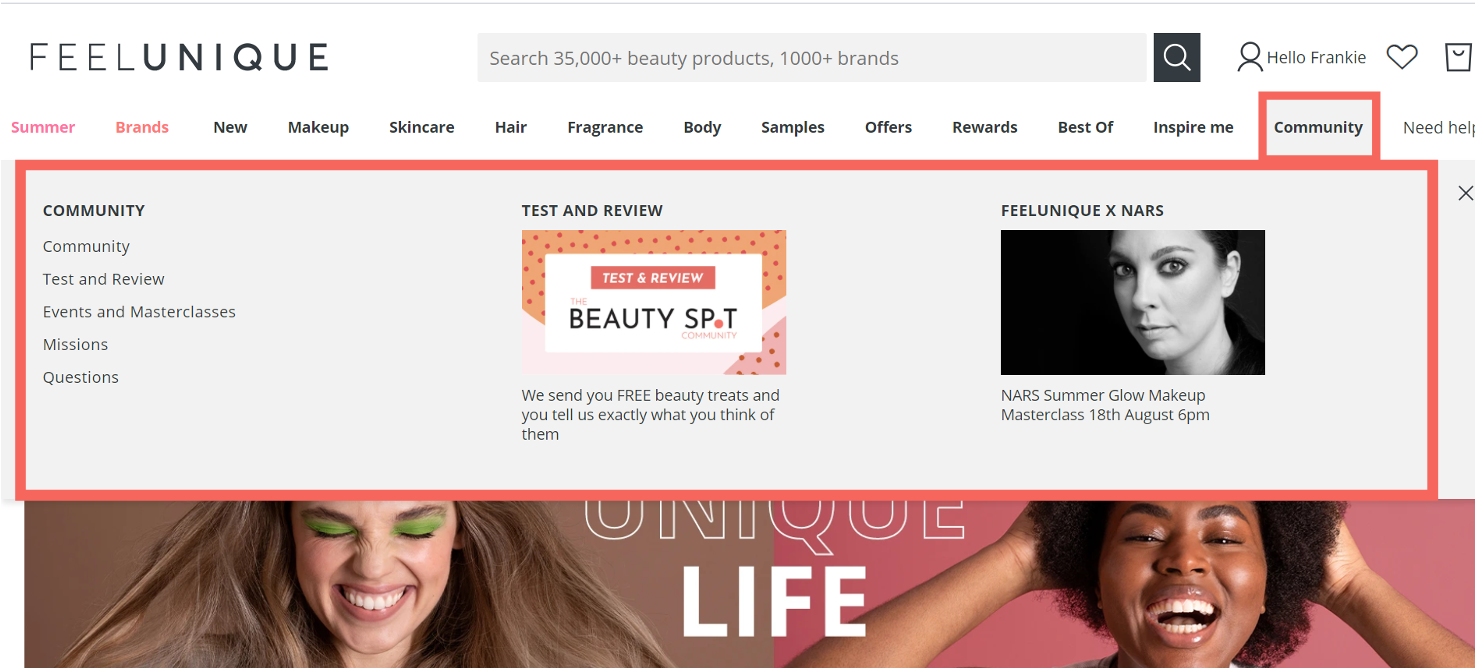 It's also a good idea to add the occasional banner to your home/category/product pages to promote a competition or an event. Here's an example from Monki: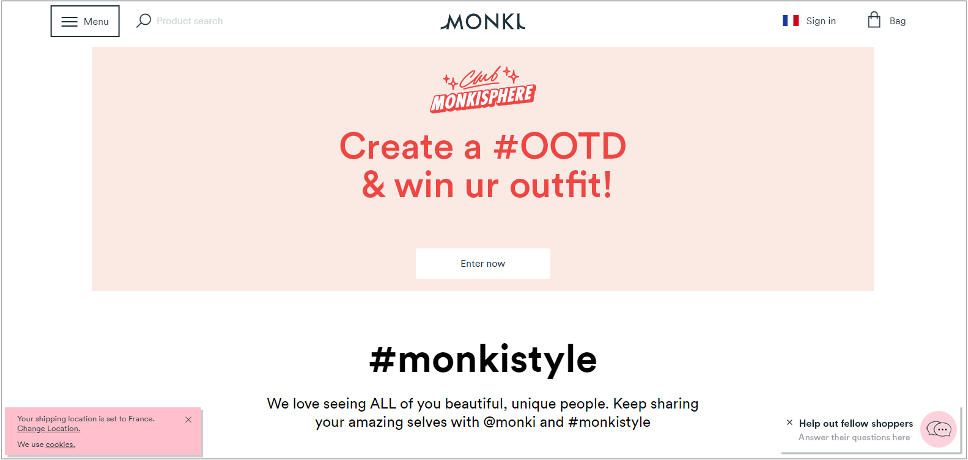 3. Feature your community content
By promoting your community members' best contributions or creations, such as routines, product pairing, outfits of the day or reviews, directly on your product pages, you are highlighting the types of UGC (User Generated Content) that future members can expect to see (and create). This best practice is an important driver of signups, especially for visitors who view multiple product pages, as it reiterates the strong community presence.
Not to mention that existing community members will love gaining social recognition within your community and on such a public platform! This strengthens the special relationship you have with your members and boosts loyalty.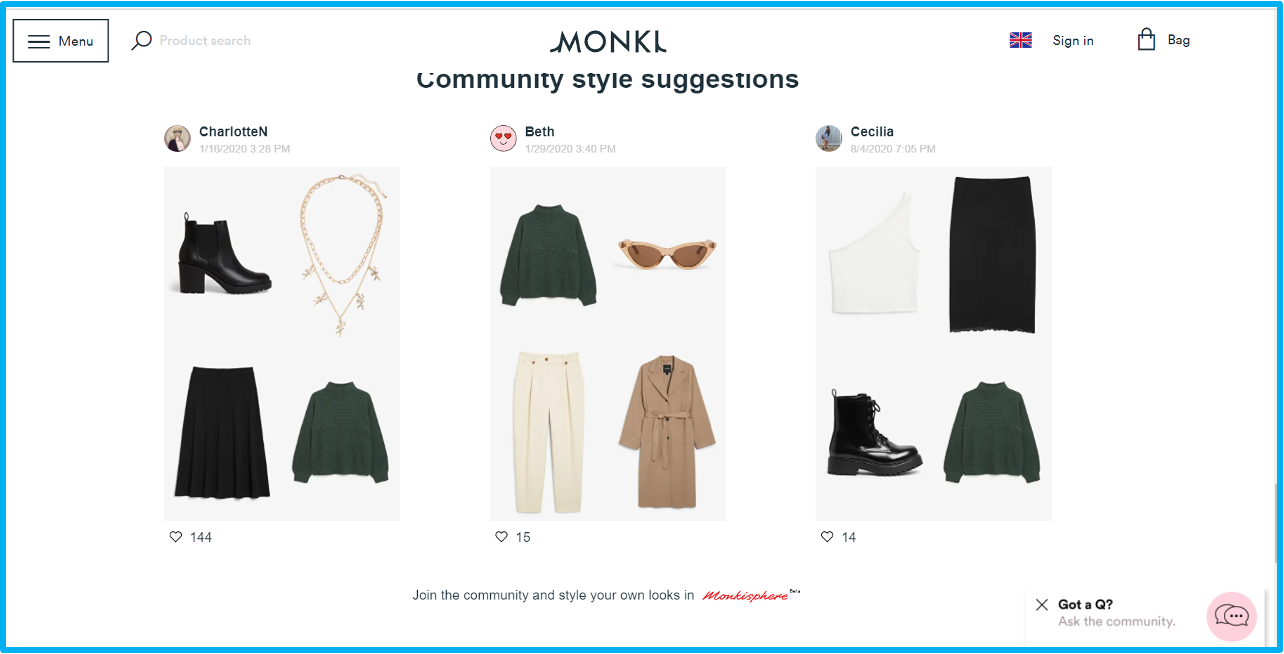 4. Consider creating a welcome pop-up
Whilst all the above-mentioned community recruitment strategies will help attract new traffic to your online brand community, your main objective should still be to get them to join! Which is why it's crucial to spend some time focusing on the first thing that your visitors will see when they land on your community. The objective here is to motivate future members and onboard them.
The best practice? A welcome pop-up like Kicks which promotes a contest.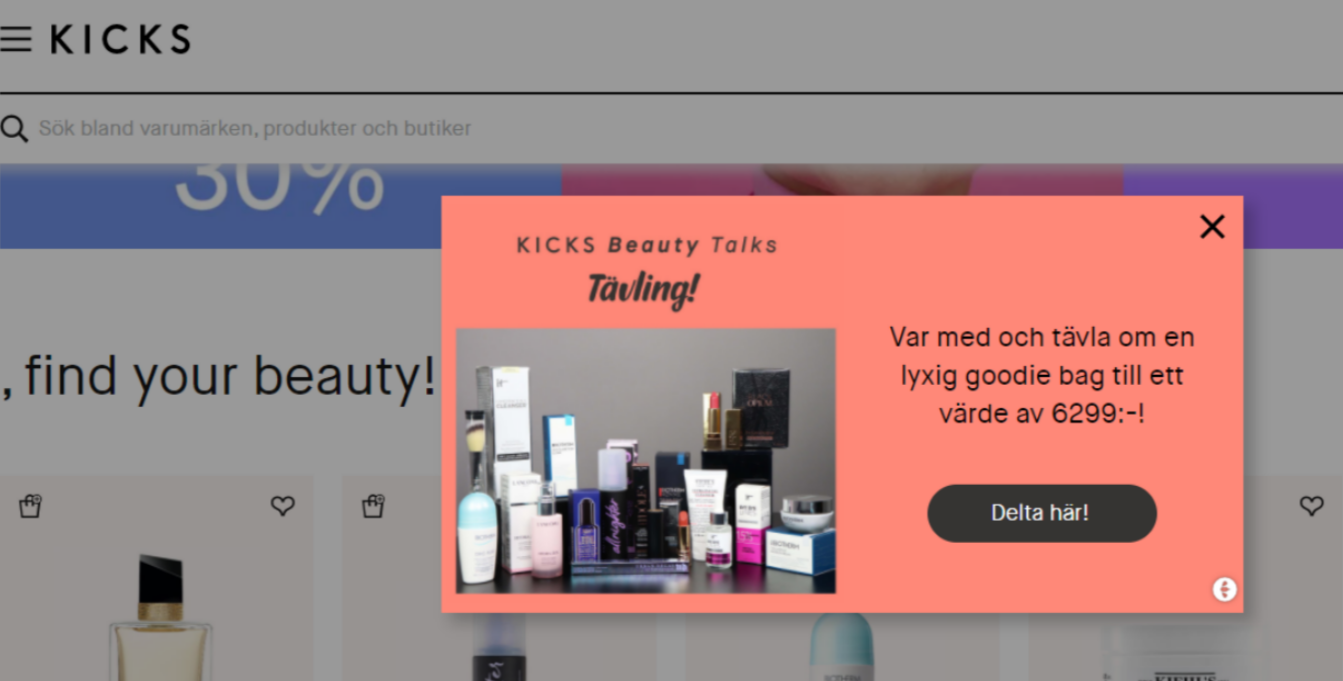 Insights and data to adjust your community recruitment strategy
Data collection and analysis not only gives your product and after-sales teams valuable information to ensure your platform remains relevant, it also helps you to iterate on community recruitment techniques.
Collect data to analyze performance
Your ecommerce website data will allow you to analyze the source of inbound traffic to your brand community with the objective of understanding the main points of entry into your platform. Determine how your header menu, homepage banner or pull-down sub-menu are performing, and compare it to traffic from other member recruitment sources.
Be sure to also analyze the bounce rate on the homepage of the community, based on which source they came from. If there's a high bounce, it could be because customers aren't immediately finding what was advertised; definitely an avenue to explore and improve!
Collect insights to feature the most successful activities within your community
As mentioned before, the pull-down feature in your header menu and banner on your homepage should highlight what customers will discover when they join your community. That's why it's important to have a clear view of the best-performing activities within your community since these are more likely to drive acquisition.
Thanks to TokyWoky's user-friendly performance dashboard, identifying which of contests, events, discussion boards, product tests or routines are the most engaging activities on your platform, is really easy.
If you want to learn more about the TokyWoky platform and the community building process, get in touch with our team. We'd love to help you choose the best strategy for your brand community!