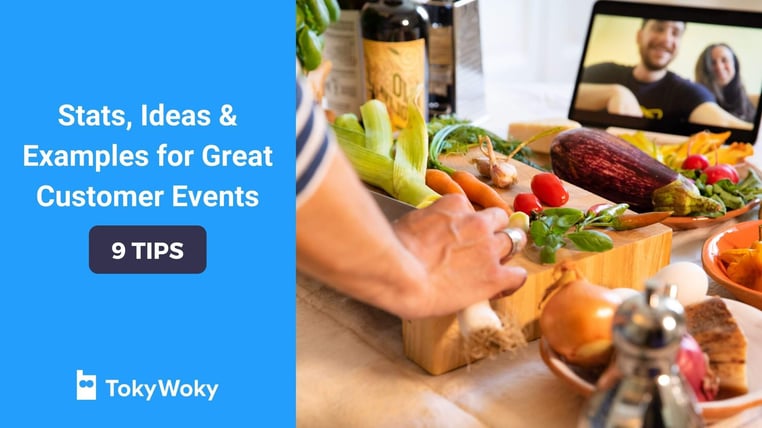 Customer events are one of the best ways to increase loyalty, engagement, and
build a brand community
. They're more effective than contests, freebies or discounts when it comes to generating brand love.
That's why we're adding Community Events to the TokyWoky community platform this month. To celebrate, and after 10 months of beta, our team is sharing their best tips for hosting great customer events.
A huge thank you to Justine, Maïté and Sarra on our team for their tips!
⚡ The best tips for hosting customer events:
What is a customer event?
A best-in-class engagement tactic
Customer events are any organized meetup hosted by a brand, usually to drive loyalty and sales. They can take place online or in-store and can range from small Q&A sessions for VIP customers to large-scale festivals with thousands of attendees. Some top customer events are Lululemon's in-store yoga classes, Nike's global AirMax Day and Hobbycraft's virtual Kids Craft Clubs.
A sharp shift to online events
Since 2020, we've heavily shifted to virtual customer events. What used to be an innovative tactic for digitally savvy brands "has now become a necessity for small and large businesses alike" (that last part is from Gartner).
How to host an online customer event
Set a clear goal for your customer event
The best business case we're seeing for customer events is building emotional loyalty, not selling products.
Active community members convert 4 to 6 times more and have an average LTV increase of 30%, and events is one way brands can offer unique experiences that feel human and exclusive to their customers.
Other event goals can be:
Getting customer insights
Delighting and training brand ambassadors
Introducing a new product or service
Generating UGC and content
Getting press and media coverage
Set a target metric for each event (# of referral codes used, customer feedback score, # of product ideas, # of generated UGC…) so you can measure the ROI after the event.
Test different customer event formats
Don't stick to one format when you plan your customer events, especially when you're starting out:
Survey your customer community on the events they're interested in (via email, social media or community poll)
Run tests on the right event size (this will most likely depend on your event goal)
Change up the hosts: your team, influencers, partner brands, community members can all run events depending on your event goal
Educational and interest-based events perform best: expert workshops, how-to sessions for a recently bought product, yoga classes, fun cooking classes...
Local workshops are very popular: make sure you make it easy for customers to find events in stores near them
Link your customer event to a product
Product-based events perform very welll when it's clear to the audience they're not being sold to. People are more interested in how to use a product rather than hear why they should buy it.
Top performing formats are workshops with experts and tutorial sessions for popular products (how to use it, combine it with other products, cleaning tips...).
Consider sending attendees the product ahead of the event to get their live feedback, reviews and UGC during the session.
Promote your customer event
You knew this was coming and it's 100% true: communication will make or break your event. In fact, you're likely not communicating enough about your events.
Over 70% of customers want more updates on future brand events, especially via email. Based on a poll conducted with attendees of community events on a TokyWoky powered community platform.
⚡ Our best event communication picks:


The dedicated email newsletter: put the event in the title and header of your newsletter (not at the bottom of the sales email)
The Homepage main banner display
Min. 3 social media postings (1 week before, 2 days before, the day of) and paid posts depending on the goal of your event
Personal invites to top customers (SMS, DMs or by calling them)
Referrals: give registered customers 5 invites to share or a discount for each person they bring
One centralized hub: list your upcoming events in one place to make discovery and registrations easier for customers.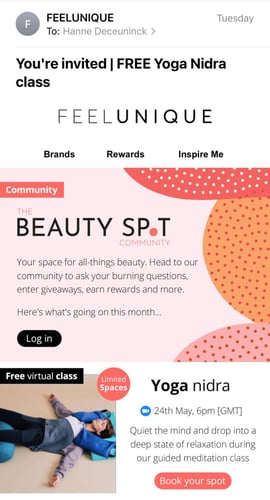 Great event communication by Feelunique, 300 customers attended their first yoga class.
Maximize attendance for your customer event
A participation rate of 35% for your online customer events is the norm*. Whether your event has 100s of registrations or it's a private virtual meetup of 20.
To increase attendance, try testing different event times, paid events, limited seating and exclusive themes (owners club, private brand Q&A, influencer workshops…).
*based on TokyWoky community event stats after 10 months of beta
Run co-branded customer events to quickly expand your audience
Co-branded customer events can double your reach, increase registrations, attract new customers, and delight your existing customer base with an interest-based event.
Example: Outdoor Voices (athleisure) and Rapha (cycling gear)'s joint community events, Undiz (fun underwear for teens) and MAC Cosmetics (beauty)'s live makeup sessions during lockdown...
If you're a retailer, consider inviting brand partners to host events with your community.
Turn your customer event into a series
Once you find formats that work for you, scale those customer interactions by turning your customer events into a series.
Hobbycraft hosts weekly craft clubs on social media. "These Community Events are our main driver of customer UGC. We have a community of crafters and mummy bloggers who are so excited to share what they're doing with their kids and the progress they're making" (says Lauren Hoyal, Creative Content & Social at Hobbycraft).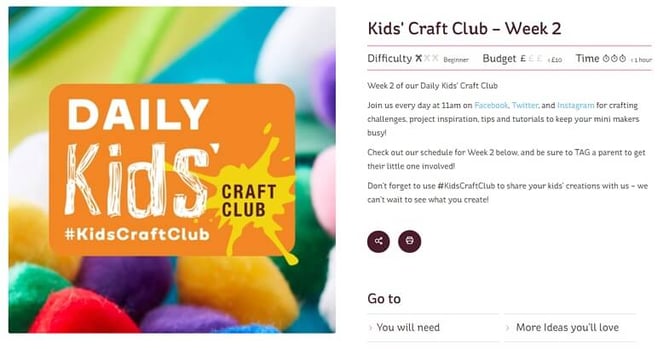 Leverage your customer events after the live session
After you've hosted a great sessions, maximize the value and ROI of your customer event by displaying the video on related product pages.
This is a key feature of TokyWoky's Community Events: it increases conversion, product discovery and answers customer concerns ahead of their purchase.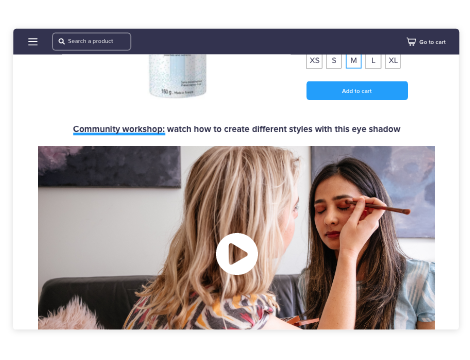 Example of a customer event video repurposed on a relevant product page
Centralize your customer events in one place
One problem became obvious as we shifted to online events and there was not one place customers could discover and register: events were happening in stores, social media, on Zoom or Eventbrite...
Customers had to register for a different platform every time, and couldn't find all events in one place. As a result, many great event solutions appeared over the past year - but this is yet another tool your customers have to adapt to, and another tool your team needs to integrate with your marketing stack.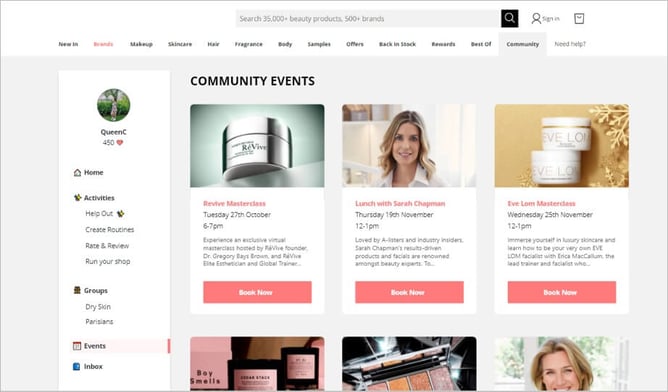 That's why we're adding Customer Events to the TokyWoky community platform, so customers can access your events where they already meet up with your community, earn rewards, test products and create content.