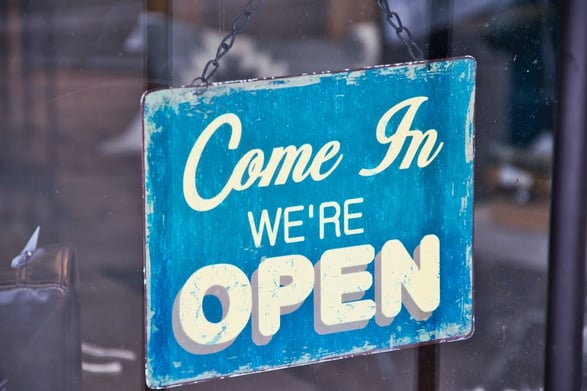 As the COVID-19 crisis and lockdown continues to impact the industry globally, community-driven brands like Monki, LuluLemon and Glossier are faring better than others. They adapted quickly, stayed connected with shoppers throughout the crisis and are the first to reopen with full support of their customers.
At the half-way mark of one of retail's most game-changing years, I wanted to look at how community marketing is playing a crucial part in the success of the brands who are winning right now:
1. Community-driven brands were quickest to adapt
At the start of the crisis, problem #1 in retail was that no one knew what was going to happen and for how long.
Instead of waiting on industry stats or expert advice, community-driven brands started polling their customers, testing their response to COVID (store closures, curbside pickups, online orders...) and new ways to engage.
They were at an advantage right away. They adapted not only at the start of the pandemic, but every single day as consumer habits evolved.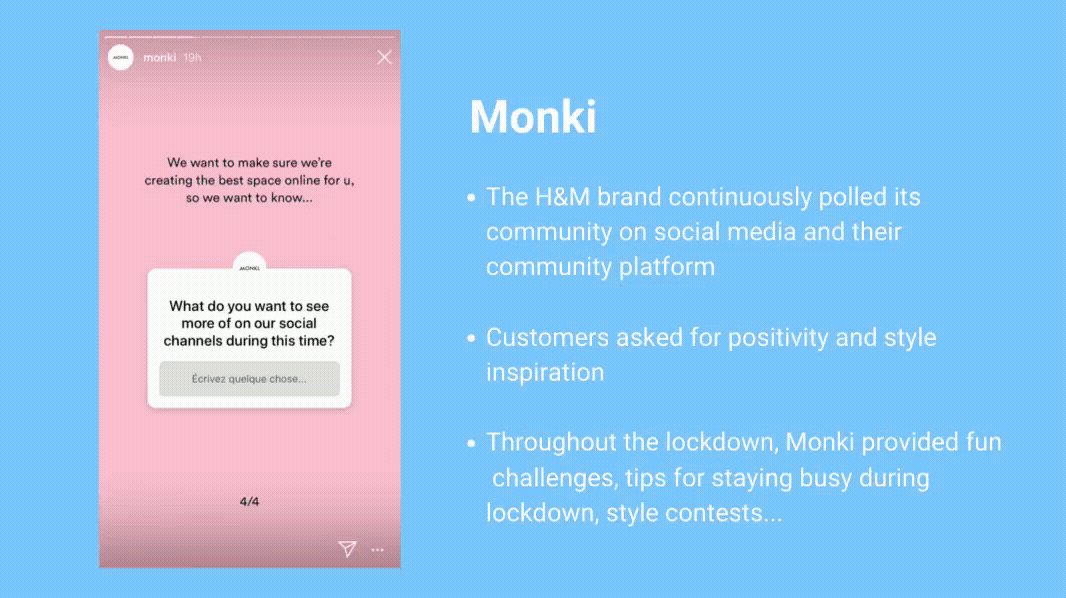 Julia Strandman, Social Commerce at Monki, says: "We've definitely seen a big increase in community engagement during the COVID-19 lockdown. Our community is such a big part of what we do, so asking them what they wanted from us was a no-brainer. They are trying to engage with us and each other. We're seeing a lot of positivity."
2. They stayed connected with loyal customers
When the lockdown started, many retailers lost access to their customers overnight.
Direct access to top customers is one of the 3 main drivers of any community strategy. Once stores closed, brands who've built an engaged online community continued to stay relevant. Even more so by helping customers with educational and entertaining content.
The world won't fully return to normal any time soon: brand relevancy will continue to depend on how you help people adapt to this new situation.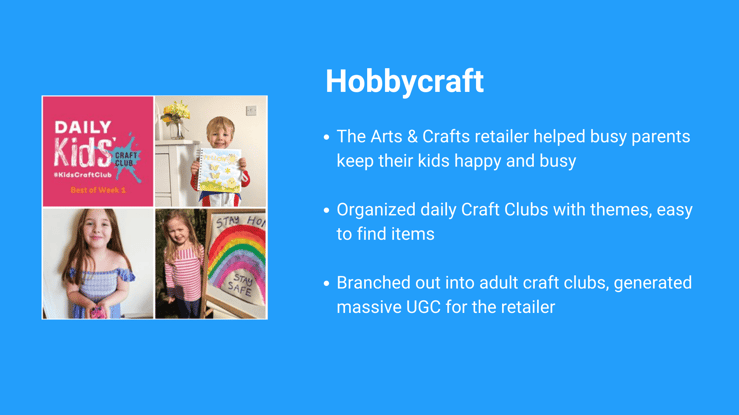 "We used to do Kids Craft Clubs in store and decided to take the concept online during lockdown. We have a fantastic community of crafters and mummy bloggers who were so excited to share what they're doing with their kids with us. It's how we got video content, how-tos, instagram takeovers..." - Lauren Hoyal, Creative Content & Social Manager at Hobbycraft.
Read: 20+ Best-in-class examples of how brands are keeping customers engaged during COVID-19
3. They won over new customers through online engagement
4 Billion people were at one point under some form of lockdown, disrupting regular acquisition channels. Some stopped working altogether (DOOH), while others needed to be completely rethought (Paid socials...).
Quickly testing new campaigns became key in engaging new customers or converting store customers to online stores. Again, community-focused brands had a unique sounding board and could iterate quickly until finding what worked.
Community-generated-content immediately became a best practice for ad campaigns, newsletters, social media posts. A quick way for brands to build authenticity and show that they too are adapting to the crisis.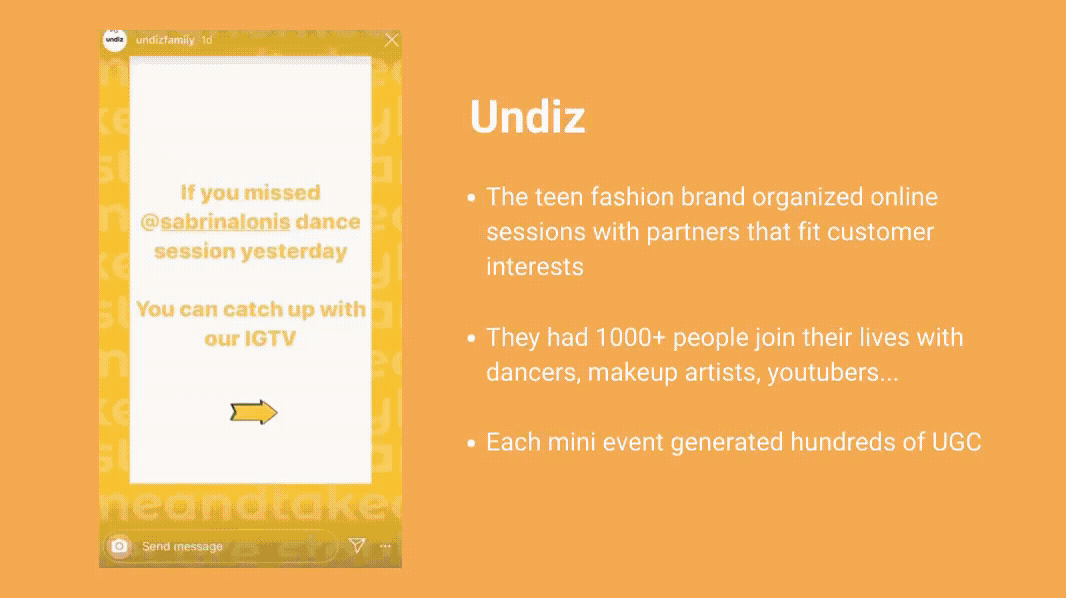 "We're discovering the impact authentic content has on our ecommerce performance. We've tested this with micro-influencers and community content for our new collection. This kind of spontaneous and authentic content creates a closer connexion to our customers, instead of the very controlled content they're used to seeing." - Melanie Da Silva Francisco, Social Media & Influencer at Undiz.
4. They're reopening faster
We're seeing it around the world: mass in-store shopping won't make a comeback anytime soon.
In general, stores who've been actively engaging online (Primark, H&M...) have seen more footfall post-lockdown than other brands who didn't. Community-driven brands were more likely to keep their staff on and leverage them to engage shoppers online. They have been preparing the reopening for weeks.
A best practice has also been co-creating the reopening with customers, which increases brand trust and helps the brand avoid mistakes.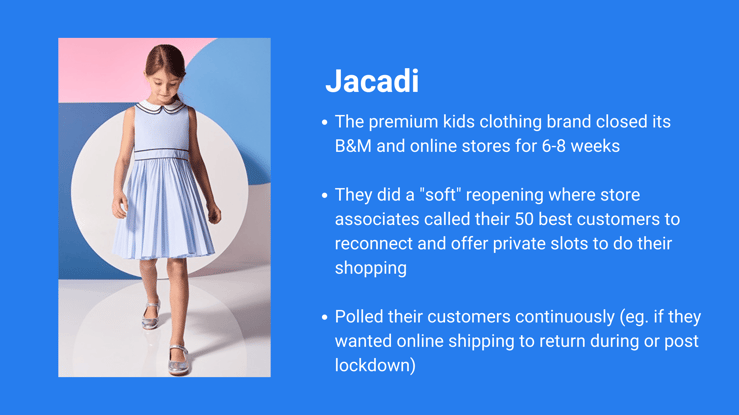 " With both our B&M and online stores closed, goal #1 became staying connected with our customers and preparing for a return to normal as best we could, making sure our customers felt comfortable coming back to Jacadi's stores." - Cloé Sponton, Customer Service at Jacadi.
5. Community is being pushed up the roadmap
Nobody knows exactly what the months ahead will bring us.
If we look at China, store footfall is likely to remain low until the year's end. This makes online loyalty and engagement key differentiators, with community-driven brands likely to continue gaining momentum in the months to come and beyond.
As a result, we've had more brands reach out with a community project than ever, and I'm hearing similar things from other community tech companies. To me, 2 types of retailers are accelerating on community:
Brands who are mature on community and know the value it drives. This crisis has only reaffirmed what they already knew and they're doubling down.
Brands whose competitors did better than them during the crisis. For many of them, community went from a "nice-to-have" to a must-have.
If online engagement, creating a community platform, community building... have become priorities, reach out to team@tokywoky.com. Happy to share our best practices and help you build a successful community for your brand.
Related blogposts: